About Us
Since our founding in 1987, DISC Information Services has sent out over one million surveys administering hundreds of research projects. We have achieved this impressive business volume by offering the highest quality research services and methodologies available. DISC's core services are designed to seamlessly handle every aspect of a survey project, from design to analysis.
Our areas of expertise include: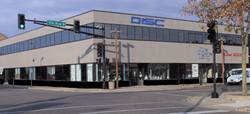 Creating the most effective survey solutions available
Delivering the highest response rate at the least possible cost
Assessing data to identify and track market or audience trends
Offering options such as indexed image archives on CD for instant access
Providing professional data analysis in written and PowerPoint formats


DISC maintains the highest standards of data confidentiality, as well as employing state of the art technologies to ensure client data security.
Contact us today and see how DISC can deliver the survey results you can rely on.


What our clients say:
St Cloud Technical College
"DISC Information Services efficiently performed a quality survey about our college newsletter. The survey provided valuable information regarding our readers' satisfaction and will help to deliver a better product to them. The information obtained was valuable in reiterating the significant importance the piece was to our alumni and friends. With this being our first survey, DISC was there to provide the professional guidance we needed to create a quality survey. We will definitely use them in the future and highly recommend them to others."
New Mexico Department of Game and Fish
"DISC Information Services has performed survey and harvest information management services for New Mexico Department of Game and Fish for over ten years. DISC Information has been able to provide these complex services promptly, according to numerous deadlines, and at a very competitive price. The range of challenges is broad, but DISC has maintained personnel with the skills for all the varied tasks. The personnel within DISC who complete the projects are talented and highly qualified. Furthermore, the workforce at DISC is stable, and that has resulted in high level of continuity in delivered products from year to year. The work ethic that exists within DISC Information and its employees is remarkable. New Mexico Game and Fish, with its complex game and hunting laws, presents many challenges to DISC Information. Public pressure often demands novel analyses of data or changes in procedures without providing preparation time. DISC Information has been able to provide data, analyses, reports, and summaries, and DISC has been able to adjust its methodologies to meet the shifting needs of New Mexico Department of Game and Fish."
ATD
"We feel reassured and confident because DISC Information Services has access to more than one analyst to obtain the information we need and at a price that was much more reasonable than our previous vendor. We've received very, very personal attention. DISC Information Services has taken the time to learn what we want, how we want it, and when. I also know I can call their office with any strange request and they'll do their best to take care of it, as they've proved over and over again. The people at DISC are interested in finding out what we need done and doing it to our satisfaction."